About
National Defence Academy Entrance Exam is a well-known examination which gets filled by 12th pass out candidates. Candidates who want to make their career in Indian defence forces and then this examination is the best option and the greatest opportunity for them. NDA examination gets twice a year by the UPSC,the Union Public Service Commission. First examination gets conducted in April (NDA 1) and another one gets conducted in September (NDA II) .Complete syllabus of class XI and XII is covered. Generally speaking, More emphasis is laid on class XI as per the trend going on from the last few years. CHANDIGARH DEFENCE ACADEMY offers coaching for the NDA written examinations. The Team of CHANDIGARH DEFENCE ACADEMY is highly qualified and immensely experienced in successfully coaching students for NDA examinations. The standards of excellence followed by CHANDIGARH DEFENCE ACADEMY ensures that each student who opts for coaching with us feels confident and well prepared for the exam.
The strategy for the preparation at CHANDIGARH DEFENCE ACADEMY is immaculate. Following our own developed techniques, we do follow the regular tasks like taking weekly tests, mock tests covering previous year question papers, and doubt clearing sessions. The results are duly discussed to pin point the lacking area. This ensures that the students know their expectations in the examination, how to approach the examination, manage time efficiently and get the best possible results.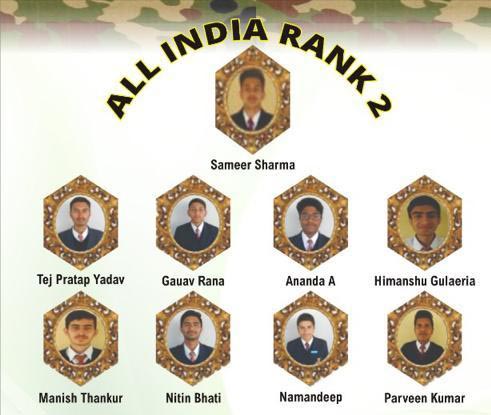 CHANDIGARH DEFENCE ACADEMY (Best for nda written exam)
CHANDIGARH DEFENCE ACADEMY is a premier institute widely known for the quality education that it imparts. It is committed to ensure a sound and realistic transition from hopes and ambitions in a successful career to the threshhold NDA of every single aspirant. "CHANDIGARH DEFENCE ACADEMY", is the only institute where all leading stable core faculty members are integrated in fine blend with one another collectively so that our aspirants crack NDA WRITTEN EXAMINATION results. CHANDIGARH DEFENCE ACADEMY (Estd. 1998).......The best Institute for NDA among all the coaching Institutes in India. CHANDIGARH DEFENCE ACADEMY promises to make the students comfortable with the pattern of NDA entrance test. We would provide a balanced and unique way of competitive test for the wards incorporating almost all the areas of study which they are pursuing to their academics on the actual pattern of entrance tests of NDA. We at CHANDIGARH DEFENCE ACADEMY focus on thoughts, ideology and performance to achieve the target of NDA written Examination level, our faculty works with the commitment and dedication to get the best results and provide coaching through unique and precise methodology .
WHY TO JOIN CHANDIGARH DEFENCE ACADEMY FOR NDA ENTRANCE EXAM
• 17 Years of presence in the field of education.
• Strong foundation of basic concepts of Mathematics + General Ability.
• Focus more on concept building & gradual improvement in the performance of the students.
• Develops systematic problem solving skills.
• Focus on quick analytical thinking.
• Good practice 10 years paper on NDA +3000 plus problems which ensure the clarity of every small doubt.
Exceptional quality of CHANDIGARH DEFENCE ACADEMY

• Personalized attention from the senior faculties
• special training given to students to make them enable to compete better in competitive exams i.e. NDA written examination.
• Systematic completion of whole syllabus NDA Coverage of Board syllabus with the NDA syllabus.
• Special Classes for Maths + General Ability is also conducted.