About US
Established in 1998 by a team of professionals and headed by Founder Director Kavita Sharma for students from Class IX to XII by imparting training and making them ready to face Defence examination like NDA/NA (UPSC), TES (Technical Entry Scheme) alongwith SSB. The Institute seeks to identify potential talents of individuals, develop them to face their weakness, building skills and facilitate them to develop ideas to think aptly and deal with situation smartly becoming a cadet from student.
CHANDIGARH DEFENCE ACADEMY is in training & development activity for last 22 years and it caters from very basic level of schooling . The Institute is managed by trained and Retired Personnel of respective Army, Navy, Airforce, Institute have a trained and well quipped infrastructure for day scholar as well as hostel facility too. Besides NCERT and NDA/NA/TES , Institute also deals with other competitive examination based on Non medical for XI, XII, JEE MAINS, CET Paramedical, B.sc Agriculture, NATA.
The National Defence Academy exam is conducted by UPSC for admission to the Army, Navy and Air Force wings. This exam is a gateway for candidates looking forward to join Defence Forces which is conducted twice a year (April & September) in two stages: written exam and SSB Interview. Around five lakh, aspirants appear for NDA every year, out of which approximately 6,000 are called for SSB Interview. UPSC prepares a list of candidates who obtain minimum qualifying marks in the written exam. Such candidates are called for SSB Interview for Intelligence and Personality Test
CHANDIGARH DEFENCE ACADEMY targets the pre stage preparation immediately after class 10th. NDA means cadets with indepth knowledge of NCERT Class XIth & XIIth inclusive of basics upto 10th. CDA lays emphasis on NDA written examination alongwith overall personality development of students.CDA ensures the quality education with well qualified knowledgeable and experienced faculties. Team of faculties ensures regular task and test to know improvement of students. Its being ensured to have an analysis of level of students and overcome weakness by working for its strengthening. We at CHANDIGARH DEFENCE ACADEMY focus on thoughts, ideology and performance to achieve the target of NDA written Examination level, our faculty works with the commitment and dedication to get the best results and provide coaching through unique and precise methodology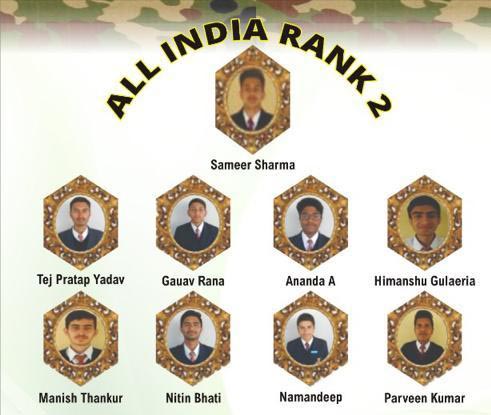 BRIGHT RESULTS OF NDA CADETS
CHANDIGARH DEFENCE ACADEMY is an institute widely known for the quality education that it imparts with renowned and best faculty giving wings to cadets to fly high and be successful. It is committed to ensure a sound and realistic transition from hopes and ambitions in a successful career to the threshhold NDA of every single aspirant. "CHANDIGARH DEFENCE ACADEMY", is the only institute where all leading stable core faculty members are integrated in fine blend with one another collectively so that our aspirants crack NDA WRITTEN EXAMINATION results. CHANDIGARH DEFENCE ACADEMY with its 22+ year's experience holds a trust for best results all over India.Academy make sure to guide and mentor students in such a way that they get comfortable with the pattern of NDA entrance test. We would provide a balanced and unique way of competitive test for the wards incorporating almost all the areas of study which they are pursuing to their academics on the actual pattern of entrance tests of NDA. Academy ensures physical as well as mental good health with personality development of Cadets by providing a team of Counselor regularly and keeps them motivated.
WHY TO JOIN CHANDIGARH DEFENCE ACADEMY FOR NDA ENTRANCE EXAM
• 17 Years of presence in the field of education.
• Strong foundation of basic concepts of Mathematics + General Ability.
• Focus more on concept building & gradual improvement in the performance of the students.
• Develops systematic problem solving skills.
• Focus on quick analytical thinking.
• Good practice 10 years paper on NDA +3000 plus problems which ensure the clarity of every small doubt.
ACHIEVEMENTS OF CDA


• Well Qualified and best faculties with experience for teaching and training.
• Personalized attention and review, regular check on improvement in performance and capability of students.
• Helps students in Personality Development, confidence building and developing problem solving skills.
• Mental counseling and helps in individual students establishment to cater future career obstacles smartly.
• Candidates often confuse themselves of SSB expectations which is cleared and clear vision is provided by CDA.